The Covid-19 pandemic means that many of us are staying at home and sitting down more than we usually do. It's hard for a lot of us to do the sort of exercise we normally do. It's even harder for people who don't usually do a lot of physical exercise or have health conditions.
Why stay active?
The #StayActive campaign is making at risk groups aware how regular physical activity benefits can help decrease the susceptibility of contracting Covid-19 as well as benefiting both the body and mind.
Regular physical activity, can reduce high blood pressure, help manage weight and reduce the risk of heart disease, stroke, type 2 diabetes, and various cancers – all conditions that can increase susceptibility to Covid-19 .
It is also good for our mental health. Reducing the risk of depression, cognitive decline and helps to lift our overall feelings. Regular physical activity also helps to give your days a routine and a way to stay in contact with family and friends.
There are several ways you can make those small changes to begin moving more, to maintain your physical activity or find new opportunities whilst in and around the home:
If you would like local support and advice tailored to you, get in touch with Let's Get Moving Cambridgeshire or on Twitter or Facebook.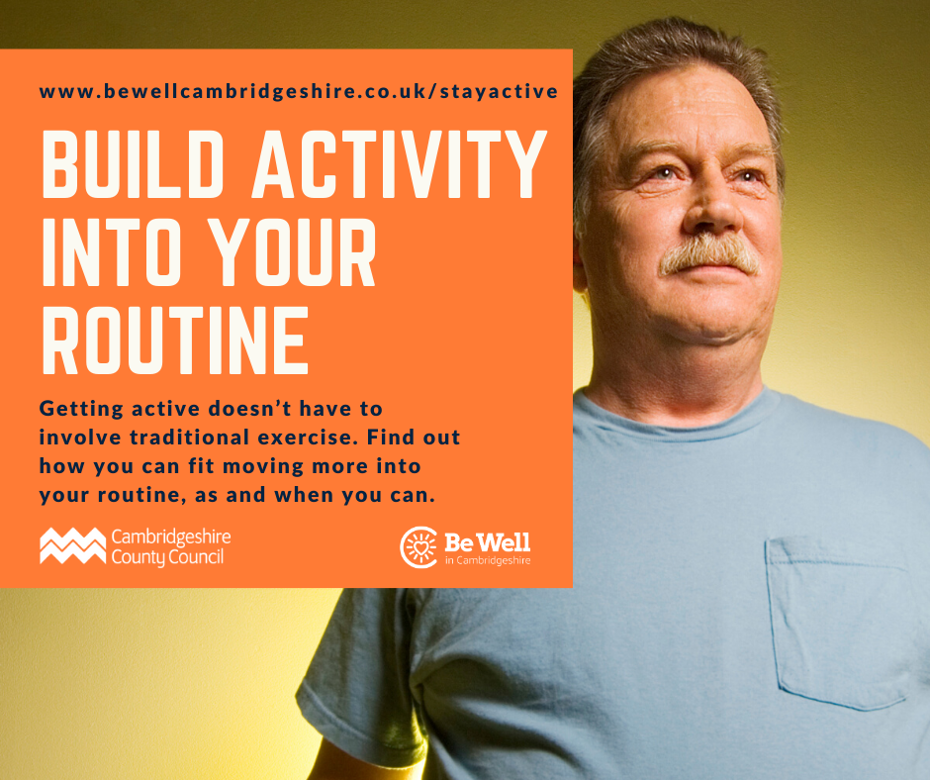 Man preparing to build activity into his day
How can I stay active if I am currently shielding?
There are many ways you can move within your home or outdoors whilst adhering to strict social distancing guidelines.
There are many online home workout videos, covering everything from Pilates to dancing to chair based exercises. Many of these resources are free and don't require kit or equipment, so you can try out different activities until you find one you enjoy.
Additionally, if you are shielding alone, there are ways you can be active while staying connected to people. Some exercise classes are streamed live through apps and websites so you can do them at the same time as family, friends, or others trying something new.
Visit we are undefeatable for more information and to explore the opportunities.
For further advice, please speak to your GP or hospital care team.
Looking for individual and specific support for your condition?
If you would like condition specific advice and information, simply click through to We Are Undefeatable, where you can find ways to be active that works for your condition(s), not against you.
Looking to move more and become physically active?
We understand that if you are new to getting active it can be scary. However Sport England has put together some top tips to you get started and feel the physical and mental benefits that even small increases in physical activity can bring.