There are 50,000 people over the age of 65 in Cambridgeshire and Peterborough who may be at risk of loneliness. Many older people can go a month or more without talking to a friend, family member or neighbour and this year the pandemic will have made loneliness even worse for many.
Together we can help end loneliness. It doesn't take a big commitment, or a lot of time.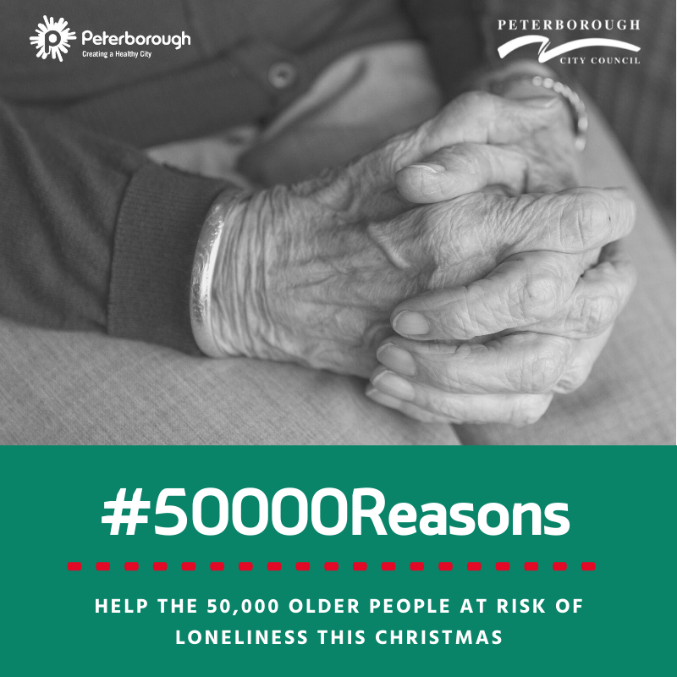 Small things you can do to help
Older people in Cambridgeshire have told us that a smile, wave, or hello from another person, can make all the difference. It only takes a few seconds to help someone feel less isolated and as long as social distancing guidelines are followed it is still possible to make a difference
Start with a 'hello', a wave or even strike up a socially distant conversation.
Send a Christmas card to the older people in your street. You could include an offer of help, should they need it.
Reassure older neighbours by getting another neighbour to introduce you.
Take 10 minutes each week to phone a friend or family member you haven't spoken to in a while.
Write a letter to someone who has made a difference to your life.
Encourage children to greet older neighbours at a social distance.
Help if you are lonely
In Cambridgeshire (but not Peterborough), contact:
Care Network
Tel: 01954 211919
Email: admin@care-network.org.uk
In Peterborough, contact:
Peterborough Council for Voluntary Service
Tel: 01733 342683
CPSL Mind
Good Mood Cafes take place across Cambridgeshire and Peterborough. They are two-hour informal 'get togethers' designed to connect individuals to other like-minded people within their communities; offer wellbeing support and share interests and skills.
Visit our webpage on how you can beat loneliness.
Lifeline
Call 0808 808 2121 seven days a week 11am-11pm for listening support and information for someone experiencing mental distress or if you are supporting someone in distress.