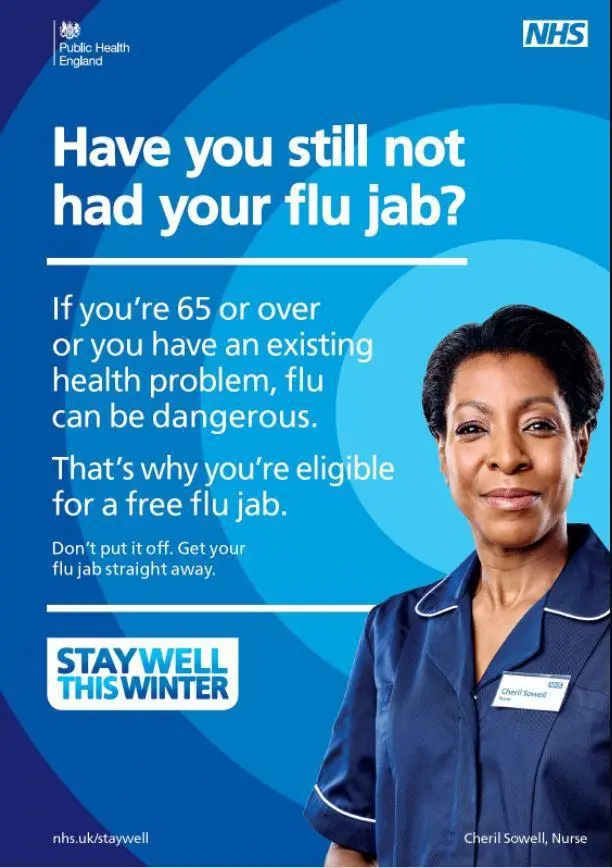 Flu jab poster
Stay Warm to Stay Well this winter
Cold and wintry conditions are associated with an increase in injuries and illnesses such as heart attacks, strokes and pneumonia. Combined with low levels of sunlight after the clocks go back means that many of us feel in poor health in cold weather. However if you are older, under the age of five or have a long term health condition such as heart, lung and kidney problems you are particularly vulnerable to becoming unwell.
Keeping warm is an important way to stay well during the winter months. There are some top tips for keeping warm:
Heat your home to at least 18 (65) degrees. You may prefer your main living room to be slightly warmer. Keep your bedroom window closed on a winter's night.
When you are indoors try not to sit still for more than hour. Get up stretch your legs and make yourself a warm drink.
Eating well is important. Have regular meals that will keep your energy levels up. Hot meals and drinks help keep you warm, so eat at least one hot meal a day.
Wear lots of thin layers, clothes made from cotton, wool or fleecy fibres are particularly good and maintain body heat. Start with thermal underwear, warm tights or socks. If you're sitting down, a shawl or blanket will provide a lot of warmth. Try to keep your feet up, as the air is cooler at ground level
Wear warm clothes in bed. When very cold, wear thermal underwear, bed socks and even a hat – a lot of heat is lost through your head.
Use a hot-water bottle, wheat bag or an electric blanket to warm the bed, but never use a hot-water bottle and an electric blanket together as this can be dangerous. Check whether your electric blanket can be kept on all night or whether it's only designed to warm the bed before you get in. It is best to get it checked every three years by an expert. If you have continence difficulties, talk to your doctor before using one.
Check local news and weather forecasts for advice when cold weather is predicted.
In cold weather it is best to avoid going out. If you do, be sure to wear plenty of clothes to keep your muscles warm. Wear footwear with plenty of tread to give a better grip and with a warm lining or wear thermal socks. If you use a walking stick make sure the rubber that has contact with the ground has a good tread.
Look after yourself. Contact your GP or pharmacy to get a free flu jab: if you are 65 or over, live in residential or nursing home or care for an older or disabled person, have a condition that puts you at risk of having flu, are pregnant and children aged six months to two years at risk of flu can be vaccinated free of charge. Go to the NHS Choices website to find out more information about the flu vaccination including the vaccination programme for children and frontline medical and social care workers.
Check on older neighbours and relatives to make sure they are safe and well. Make sure they are warm enough, especially at night, and have stocks of food and medicines so they do not have to go out in cold weather. If you are worried about an older person contact a family member, the local council or ring Age UK.
Make sure your home keeps the heat in. This will also reduce energy demand and your fuel bills. Simple measures such as fitting draught proofing around gaps in windows and doors or making sure that your loft is insulated. Ensuring that you boiler is efficient and safe is also important. There is help available for example the Energy Saving Advice Service (ESAS) is a government funded telephone advice service that gives advice and signposting to support. (Tel.0300 123 1234 9am to 8 pm Monday to Friday).
You might be eligible for financial support to help keep your house warm, the Citizen's Advice Bureau can provide information on benefits, heating, grants and debt.