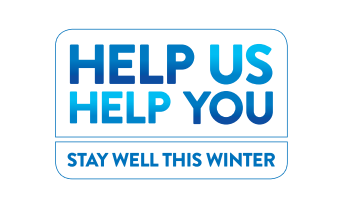 Welcome to your local Stay Well this Winter homepage.
Your local Stay Well this Winter programme is a network of partners who work across the local health and social care system to mitigate the risks associated with cold weather to the health and well being of our most vulnerable groups who live in cold homes due to fuel poverty.
If you are at risk of or living in fuel poverty, there are several ways in which your local Stay Well this Winter programme can help you access the services, information and potentially even financial support to keep warm and well this winter, whilst reducing your energy bills.
The Stay Well Heating Grants application process is now open for applications. Please note, you will need to be referred by an organisation.
Support to reduce your energy bills and to heat your home is available now. If you live in:
The Vaccinators
It's important to get your seasonal flu and COVID-19 vaccinations if you're at higher risk of getting seriously ill from these illnesses. The vaccine helps to:
reduce your risk of getting seriously ill or dying from COVID-19 or flu
reduce your risk of catching and spreading COVID-19 or flu
protect against different strains (variants) of COVID-19 or flu.
Seasonal vaccines are offered because viruses change, and protection fades over time.
To book or learn more about your seasonal vaccinations, visit The Vaccinators now.
Warm Spaces / Warm Hubs
'Warm Spaces or Warm Hubs' have been created as places within your local community where you can be assured of finding a safe, warm and friendly environment in which to enjoy refreshments, social activity as well as quiet spaces, information and advice and the company of other people, who may be struggling with the cost of living and unable to heat their homes.
Please click on your local District Council where a schedule of locations and opening hours, as well as information about what is on offer at your local 'Warm Space' can be found.
Managing your money in uncertain times
The pandemic and the rising cost of living have left lots of people with new money worries. Whether you've been caught off guard by higher bills and payments, uncertain income or the loss of a job, MoneyHelper can help you find your way forward and take the first step towards getting on top of things.
Find your way forward with MoneyHelper
MoneyHelper is a free service provided by the Money and Pensions Service. Here to cut through the jargon and complexity, explain what you need to do and how you can do it. Here to put you in control, with free, impartial help that's quick to find, easy to use and backed by government.
Anglian Water working in partnership with Stay Well
Anglian Water is here to help you when you need it most. If you are struggling to afford your bill, Anglian Water's specially-trained Extra Care Support Team can help find a way forward, with a personalised plan to find the cheapest tariff or a flexible payment plan made just for you.
Anglian Water also wants to help you save water and in turn save you more money. To do so, simply request your free water saving home kit to help with those bills.
Visit Anglian Water's Extra Care Support team, call on 0800 232 1951 or download the Extra Care Support leaflet below.
Cambridge Water
Cambridge Water have flexible payment schemes and special tariffs for customers who have low incomes or are struggling to pay their water charges. If you are in difficulty paying your bill you should contact Cambridge Water Online, or by calling free on 0800 587 7707.
Anglian Water's 'Extra Care Support' Leaflet
NHS 'Help Us, Help You' Campaign
The winter months can be challenging for both you and the NHS. 'Help Us Help you' is an NHS Winter Pressures campaign to help you understand the actions you can take to stay healthy and manage your own health to help reduce the pressure on the NHS.
To help you understand what actions you can take to prepare for winter and to get the right help at the right time, click on the NHS campaigns below.
Prepare for Winter and get vaccinated against the flu virus. Flu vaccination is available every year on the NHS to help protect adults and children at risk of flu and its complications. However for certain groups, flu can be more severe, and therefore be eligible for the free flu jab.
You are eligible for the free flu vaccine if you are pregnant, are aged 65 years or over, have a long-term health condition (check which conditions are eligible), or are a carer. Children aged 2 or 3 years are also eligible.
Contact your local GP surgery, local pharmacy or midwifery service for your free NHS flu vaccine to help protect you against the risk of flu and its complications.
Do you have an urgent but non-life-threatening medical concern? Not sure what to do? Ring NHS 111 to find out what to do and where to go.
NHS 111 (online or by phone) will direct you to the most appropriate local service. This is particularly
important when your pharmacy is closed to ensure that you get the support you need 24 hours a day.
Seek advice from a local pharmacist to prepare for winter. If you start to feel unwell, even if it's a cough or a cold, don't wait until it gets more serious. Seek advice from your pharmacist. Pharmacists are qualified healthcare professionals with the clinical know how to give you the help you need, whether it's over the counter medicines, a few days rest or a bit of reassurance. Better still all this can be done without the need of an appointment.
Most people live within easy reach of a pharmacy, and with many now offering longer opening hours, it's easier to get the help and advice you need, without booking an appointment.
To find your nearest pharmacy, visit: https://beta.nhs.uk/find-a-pharmacy/
Useful contacts
Below are your local Stay Well this Winter partners who are here to support you through the winter months to keep you safe, warm and well with access to vital services, key information and potentially financial support.